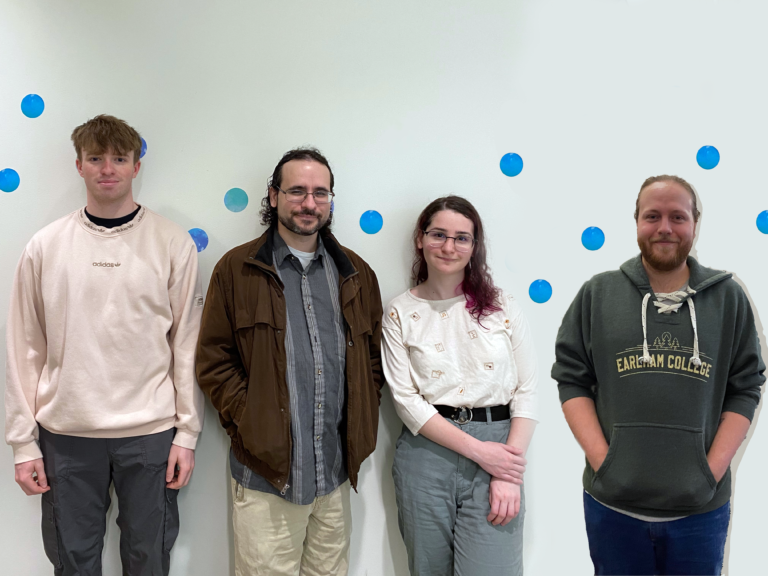 The Earlham Word is back! We are still amazed that this unique resource is being revived. Nevertheless, we are in the 21st century, and most of us are used to getting our news digitally. Hopefully, this option will be available soon with the Earlham Word website! Of course, this option would not be possible without the help of the Computer Science Web Development Applied Group here at Earlham, which consists of David Barbella, Porter Libby, Anna Verulidze, and Charles Bowen-Rayner.
David Barbella, the current faculty supervisor of the Computer Science Web Development Applied Group, shared his enthusiasm for the Word. When asked why he decided to help with the Word, Barbella replied, "I think it's an incredibly important skill set for students to have the opportunity to get involved with and gain experience in. I'm also always looking for interesting, useful, and visible projects for my student web developers to work on."
The Earlham Word is, "a source of information both within campus and externally to the community, and mostly student-run," said computational system manager Porter Libby. He would like to support things that students are interested in and invested in.
Regarding the web section, Porter said, "[it would be] an opportunity to teach people new things and pass down information that will allow people involved to teach others. It will be a beneficial, good thing that students are working on." The Earlham CS Applied Group offers many different experiences, ranging from system administrators all the way to web development.
"I joined Web Dev because it gave me an opportunity to build my skills outside the classroom and learn how to collaborate with others on projects," said sophomore Charles Bowen-Rayner.
"I believe learning how web applications are built and maintained, as well as the soft skills gained from working with the amazing Web Dev team, will be beneficial in my future career, no matter which path I take," said senior Ana Verulidza. The Web Dev group meets weekly to discuss several technical issues or projects to work on. The main reason this group was created was to provide opportunities to connect students who are interested in developing their web development skills with projects for them to work on. Some of these projects include the CS web page (distinct from the official Earlham CS web page), various research programs, and now the Word.
"This particular semester, a really cool opportunity we had was working with the Earlham Word and working to try to get something up, and then, you know, we're going to be working to build the website," Barbella concluded.
So, if you are interested in the type of work the Web Dev team does, then do not hesitate to join. You never know, you might be working on the next big thing!