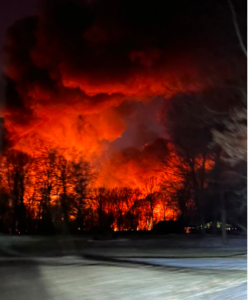 On February 3rd, fifty train cars derailed in East Palestine, Ohio, spilling over 1.1 million pounds of vinyl chloride. Vinyl chloride is a highly flammable, cancer-causing chemical that killed thousands of fish and some household pets and left the water completely undrinkable. The 4,700 residents were evacuated and returned when the town was deemed safe, however, the waterways were discolored and the air smelled of chlorine.
       Experts called this "the worst environmental disaster in US history" but for the scale of the spill, the news coverage was minimal. The news coverage of the incompetent response afterward was nearly nonexistent.
       The Norfolk Southern Railway Corporation is responsible for the spill, due to their neglect to update extremely outdated infrastructure. This was not an isolated incident as on March 4th, 28 Norfolk Southern train cars derailed in Springfield, Ohio.
       The effects of the East Palestine derailment have reached Indiana on several levels, most notably because the state announced that 100 truckloads of waste from East Palestine would be transported to a landfill in Roachdale, Indiana, 40 miles outside Indianapolis. Dale Dye Thomas is an Earlham freshman from Greencastle, Indiana- a 20-minute drive from Roachdale. He and other residents only found out about the transportation from their local newspaper.
    "Roachdale is a really small, rural town," Dye Thomas said. "It's thousands and thousands of acres of active farmland. All the water comes from a certain area and there's already chemical runoff everywhere that at one point created big algae bloom. I don't know what the water will look like with [this] toxic waste."
    Residents filled theirtown hall and slammed the government for their decision. The EPA listened and paused the project, but not before three truckloads were already dumped.
    Beaver County, Pennsylvania's 166,000 residents were immediately affected by the water and air contamination. Over a month after the crash, Norfolk Southern, a $50.6 billion company, agreed to pay Beaver County $7.3 million. After the breakdown, $6.3 million will go to replacing the equipment and reimbursing poison control while only $1,000,000 will go to community relief.
    Richmond is not in the safe zone from the consequences of the derailment. Experts expect that the vinyl chloride will contaminate the groundwater in the entire Ohio River Basin; Richmond is located approximately at its center. Dye Thomas added that there are multiple Norfolk Southern tracks throughout all parts of Indiana, including near Greencastle and Richmond. Without a major shift in infrastructure and policy, another derailment could happen that would more directly affect Indiana and Richmond.
       "[We] should know more about what the Ohio and Indiana state governments had to do with it. The maximum fine that you can have on a corporation from the EPA is really small, and I believe that's a structural problem," Dye Thomas added. "Corporations have the resources to be held accountable, and they should be."