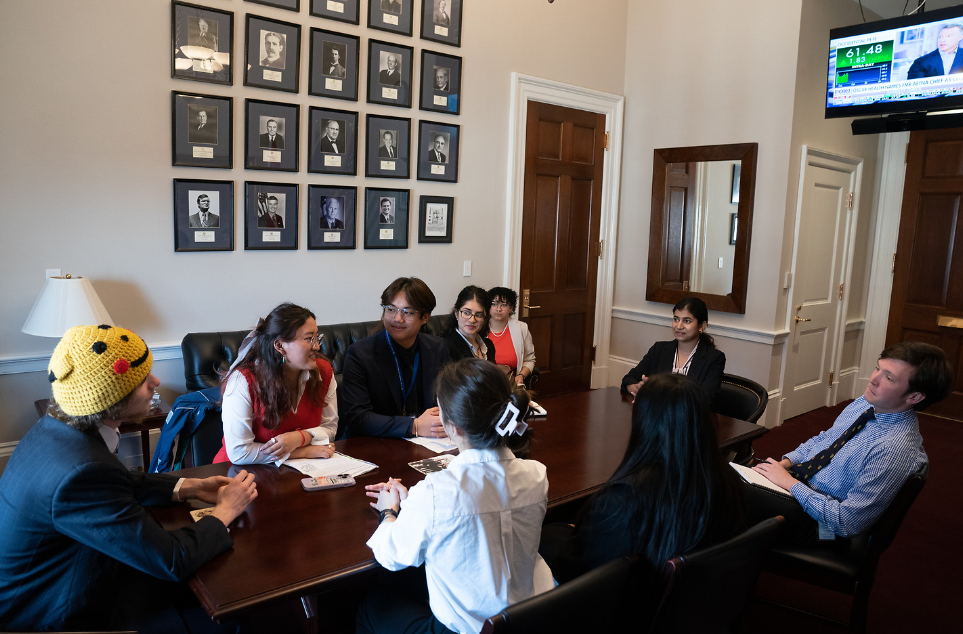 Last spring, Earlham students attended the Friends Community on National Legislation to lobby for violence intervention programs. The attire for the weekend was formal, as expected: DC politicians and lobbyists have a reputation for fancy clothes. In his book Showdown at Gucci Gulch, author Jeffery Birnbaum coined the term "Gucci Gulch" to describe the hallways outside Congress meeting rooms. Gucci Gulch paints a picture of a depersonalized political environment: an environment where status symbols and wealth prevent normal people from having a seat at the table for political discussion.
     However, one student's clothes did not fit the decorum. From shoulders to feet, he had adopted their established norms. He mirrored their dress shoes, slacks, tie, and blazer, but there was a difference. Sitting on top of his head was a yellow, hand-crocheted Pikachu hat with two little ears and a smiley face. As he walked through sanctimonious political chambers, his hat bobbed up and down, the ears of the Pikachu hat jumping up as if to wave to the politicians. While the hat was certainly recognizable, what were its intentions? Was the hat a playful jab at the extravagant clothing that separates politicians from normal people? Was it intentional at all? Did the student just wear the hat because he likes Pokémon? I intended to find out. The Man Behind the Hat "How an Earlham student uses clothing to challenge the status quo" Written by Seth Niemann Jimmy at The Friends Community on National Legislation. Photo provided by Jimmy.
     After asking around for his contact information, I scheduled an interview to find out a little bit more about the man behind the hat. The distinct hat was worn by James Robert Freiberger II, who goes by Jimmy for short. He is a sophomore Peace and Global Studies and Philosophy double major at Earlham College as well as a Richmond native. Jimmy has dreams of a career in politics and a passion for social justice. Growing up, Jimmy experienced material insecurity in his Richmond neighborhood. He saw the destitute conditions that were cultivated by financial insecurity. He saw how minimal resources could fester uneasiness, hatred, and abuse in his neighborhood. However, he was optimistic about change; one day, he hoped to remodel the system that proliferated his community's misery.
     His optimism wasn't shared among his household, though. A close family member was critical of change. Although they did what they could to help their food insecurity, they said something to Jimmy that he would never forget. They said, "You cannot be successful, things cannot change, and things will always be like they are at home." Jimmy realized systemic issues planted the idea of hopelessness in his family and his larger community; uprooting the social factors and systems that produced the fruits of misery could end the cycle.
     With this background, Jimmy began his journey to seek effective change in his own community and the systemic issues that created poverty. At Earlham, Jimmy is a part of multiple groups focused on alleviating the financial hardships of people in the Richmond area. He is a part of the Earlham 1118, a student organization focused on addressing housing insecurity in Richmond and Wayne County's abnormally large housing crisis. The housing crisis is a problem that Jimmy has personally experienced. He is also competing in the Earlham Dimick Eastman challenge where his group is focused on food insecurity and food deserts in Richmond.
     The picture was coming together: why Jimmy was presenting in front of Congress made sense, but why the hat? He had the following to say: "During middle school, I was insecure about my hair and wore a hat to cover it up. It began as an insecurity thing. Now it epitomizes confidence." Additionally, I asked him if his hat was a symbolic gesture. He replied, "In order to make a change I must play roles in society and perform those roles to some extent. Wearing suits or ties is formal or professional. I am willing to play a part in that game. The hat symbolizes a genuine part of my identity that I refuse to give up. It makes a gesture or joke of the expectation to overly formalize ourselves to appear productive, to appeal to the standard of the upper class. This is, in part, making fun of that." He made a point to note that, "I also just like the hat." Although there are multiple reasons for the hat, he wouldn't wear it if he didn't find any intrinsic value in the hat itself.
     I concluded the interview by asking if the hat ever made him stick out in DC. He described a moment that happened between him and a secretary interning for Greg Pence. In a room full of suits, the intern introduced himself as a man of many hats. Jimmy, literally being a man of many hats said, "I'm a connoisseur of many hats myself." The room burst out laughing. "In that moment I was able to engage with him as a person and not as a lobbyist," Jimmy remarked. The stuffy political decorum was present, but with a joke and a laugh the attendants of the conference left the room with somewhat of a human connection. In some ways, no hats were worn that day, and they got to speak as people.