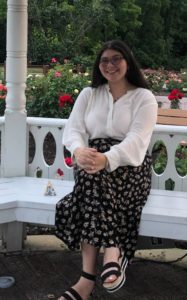 What is your background?
I was born and raised in Pembroke Pines, a small city in southern Florida. I went to the University of Florida for four years. After wrapping up my major in psychology and a minor in deaf and hearing sciences, I'm now here at Earlham as an area director.
What brought you to Earlham?
A large part of what brought me to Earlham was the Residence Life program here and the engagement with students across campus. I was one of 60,000 at my school, and I often felt like I was one of [many] people and wasn't a prominent figure on campus. I wasn't the student that you'd single out in class, and I didn't have strong connections with professors because there would be at least 25 other people in class with me. When I took a tour of Earlham, I got the opportunity to connect with a couple of students. I heard about their experience here and about how much the faculty care about the student experience and work to make it better. Earlham has such a diverse group of students who are taking advantage of the opportunities available to them. / as 9gcfgfgcfgyu8tdrt66ee4w3443wq m  c
What are some highlights from your time at Earlham? 
One of my highlights has been supervising a firstyear residence hall. Your first year is so pivotal because it's such a drastic [change in] experience from what you've known before. In your first year, you make a lot of pivotal decisions like, "What am I interested in?" "Who am I?" "Who do I hope to make friends with?." Supervising a first-year residence hall gave me the opportunity to impact that experience and engage with folks who are similarly trying to find their path and their journey. 
What advice do you have for students?
Take advantage of the college experience to the fullest. There are unique opportunities that you have at Earlham, like being able to engage with professors informally and intimately and the fact that there are tons of things going on around campus (and excursions off-campus). Make sure to get enough sleep, focus on your classes, be involved, and be engaged!
What do you think needs to be improved at Earlham?
As someone in a student-focused position, making sure we are providing the best opportunities for students and meeting their needs is most important. Sometimes that looks like doing specific programming and initiatives and fully supporting our students when tragedies happen. 
How do you feel about The Word coming back? How do you think The Word will impact the
Earlham community?
I'm intrigued [by] Earlham's…long history of journalistic involvement on campus. I'm really appreciative of all the work you are doing to explore campus and bring things to the attention of the student body. The Word has the chance to make a significant impact, and I hope it will continue
to blossom and do wonderful things.