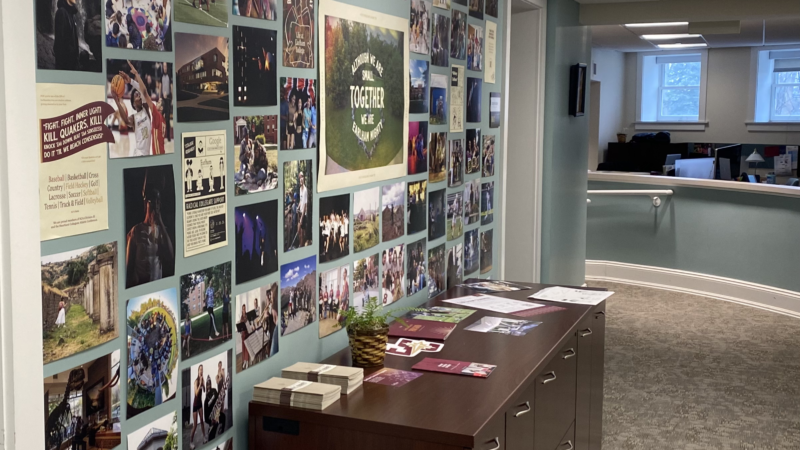 The marketing department has played a significant role in reviving The Earlham Word. Director of Media Relations Brian Zimmerman, who was involved with The Earlham Word in the past, explains that the newspaper is an integral part of the Earlham community. He believes it is essential to give students space to be creative and publish their own authentic work. It's not that The Earlham Word is about telling students what to do; it's that our office wants to strike the balance of being helpful but not giving them the freedom to explore topics that are of interest to the student body. Another key aspect of reviving the Word was that many newer student classes were not exposed to the newspaper. "Students were freshmen, sophomores. I think even the juniors wouldn't know much about The Earlham Word," Brian explained.
       The Earlham Word shut down in 2020, when the pandemic necessitated many budget cuts. It took the initiative from Ferris Odeh, Jo Swanger, and Brian Zimmerman to restore it from the ground up. 
      Marketing's role is to help students gain experience in their field of work. The nice part about the newspaper is that only a little prior experience is required. In fact, for most writers, it is their first time working on such a project.
      Sara Misak, the graphic designer of the marketing team, facilitated a workshop which helped editors create the layout of the newly published Earlham Word. "I've kind of supported just [by] helping people on the team with… design role[s]." Sara also worked on the Word banner that was hung above the newsrooms on the second floor of the May-Crossen student commons. Marketing also gave the news team writing and interviewing workshops. They've been helpful guides in the team' journey working in student media. "Maybe they'll, you know, find a passion for writing or journalism or photography or videography or whatever they get into." Brian explained that working on the Word builds many skills for students and can help them find their passion if they want to pursue a media-related career. 
      It is important to note that although the new Word versions follow a similar structure to old Earlham newspapers, it has a whole new design. The news, entertainment, or spotlight topics are all designed to fit this generation of Earlham students. In other words, The Earlham Word focuses on bringing back what previous generations experienced with the Word while providing a unique experience with distinct elements. Although the Word is a student-run media, it helps bring the Earlham community as a whole together.