"His indictment and possible conviction are unlikely to inhibit his campaign."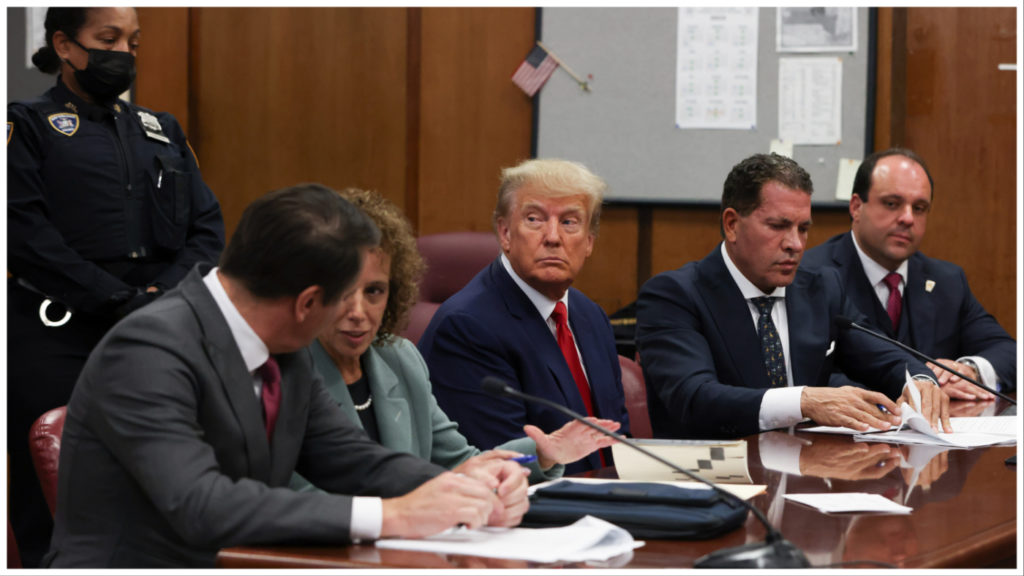 On April 4th, in a historical first, former president Trump was arraigned on 34 felony counts. It is the first time a former president  has been formally indicted, setting the stage for a contentious run up to the 2024 presidential election. However, there are many more steps to go before trial and many questions still unanswered. Will Trump be convicted, how strong is the evidence, and perhaps most importantly, can Trump run for president in 2024 if convicted?
Let's start with the big question: will Trump be able to run in 2024? The short answer is yes. There's nothing that stops Trump from running for or holding office while indicted or convicted. The constitution maintains relatively rigorous standards for disqualification, prohibiting only those who have engaged in insurrection or rebellion from holding public office. Even if convicted, Trump can still stand for election and hold office if elected. How such a presidency would unfold is unknown.
Now, about the charges. According to New York D.A. Alvin Bragg, Trump orchestrated several deals in which potentially electorally damaging information was suppressed in exchange for various sums. The case against Trump appears to center around Trump's reimbursement of Michael Cohen, his attorney, after Cohen paid off adult actress Stormy Daniels. These reimbursement payments were recorded in Trump business ledgers and documents as "payment for legal services," a full-throated lie. Furthermore, Cohen's payments to Daniels were found to have violated campaign finance laws, a charge to which Cohen has already pleaded guilty . The key point in all of this maneuvering is that the falsification of records served to obscure Cohen's commission of a crime (at Trump's direction), thereby elevating those falsifications to a felony offense.
All said, the evidence laid out against Trump is formidable. Investigators claim to have communications evidence and multiple witnesses, likely including Michael Cohen, that corroborate the accusations. Despite the claimed depth of evidence a conviction is not guaranteed. Trump's next court appearance has been set for December 4th, and in the intervening time his legal team will likely put forward one or more motions to dismiss the charges by using whatever legal technicalities they deem applicable. If those hurdles are cleared, the prosecution will still have to prove beyond reasonable doubt that Trump intended to cover up Cohen's misdeeds.
While many have expressed elation that Trump is finally being held accountable, his indictment and possible conviction are unlikely to seriously inhibit his campaign. However,  Trump faces other legal woes, ones with potentially far more bite. Trump is currently under investigation for election interference in Fulton County Georgia, mishandling classified documents, and involvement in January 6th riots. The latter two investigations have been placed under the authority of Special Counsel Jack Smith, former DOJ public integrity chief and Hague prosecutor.