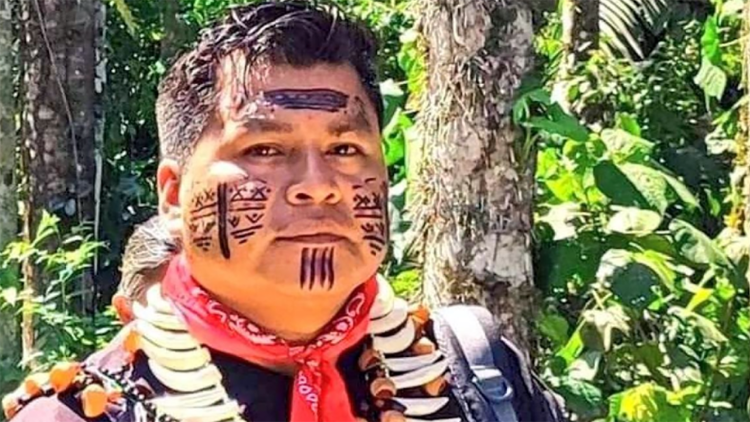 On the 26th of February, Eduardo Mendúa, director of international relations of the Confederation of Indigenous Nationalities of Ecuador (CONAIE) and prominent member of Dureno community of the A'i Cofán nationality, was assassinated in the gardens of his home.
      Dureno is one of several A'i Cofán communities, residing along the Aguarico river of northeastern Ecuador in the Amazon province of Sucumbíos. Dureno holds the land title for 9,571 hectares of old-growth forest, the result of an agreement with the federal program Socio Bosque. Despite several similar political victories in past decades, A'i Cofán land in both Colombia and Ecuador has been beset by both private and federal mining and petroleum companies for almost 70 years. On the 12th of January, stateowned petroleum company Petroecuador, accompanied by federal military support, attempted to enter Dureno territory in order to continue its petroleum drilling projects despite resistance from the community's members. Petroecuador has violated the sovereignty of Dureno for the past eight years, attempting to bribe and divide its members, enacting violence, upending livelihoods, and promoting extractivism.
      The assassination occurred just two days after CONAIE called for another national strike in response to the Lasso administration's failure to carry out the terms of a previous agreement with CONAIE, the terms of which included the immediate halting of privatization of public sectors, the termination of expansion projects in mining and petroleum drilling, and respect for indigenous sovereignty and inclusion in national politics. This agreement was the result of massive mobilization, specifically a two-week national strike primarily organized by CONAIE undertaken January 2022 — the first year of Lasso's presidency. This agreement also led to the establishment of roundtable talks between the administration and CONAIE. On the 24th of February, president of CONAIE, Leonidas Iza Salazar, declared the organization would suspend all roundtable talks with the administration and enter permanent mobilization on March 8th demanding Lasso's resignation. He additionally stated that the results of these talks were negligible, and that Lasso "has continued advancing with its neoliberal policies."
      Following Mendúa's assassination, CONAIE has repeatedly called attention to the formidable resistance and leadership which rendered him a target, as well as the incompetency and outright dismissal of indigenous sovereignty by the Ecuadorian state. In one case, published on CONAIE's Twitter on March 15th, it was found that Petroecuador has forged Mendúa's signature on an agreement allegedly signed two days after the assassination.
      As of 2008, Ecuador's constitution includes legally enforceable Rights of Nature — the first of its kind. Despite recent decades' presidencies continuing to enact neoliberal policy Lasso himself is a former banker it must be stated that the national strike carried out in 2022 is but part of CONAIE's strong history of organized mobilization. In tandem with labor unions and student groups, Ecuadorian mobilization has successfully carried out national strikes, blockading congressional buildings, forcing the government to close mines and restore fuel subsidies. Such measures have not been without sacrifices, but one can see clearly that the relationship between neoliberal economic policies, environmental and cultural destruction, and militarized states are not exclusive to any one state. The strategy and directness of CONAIE may prove a worthwhile example to follow