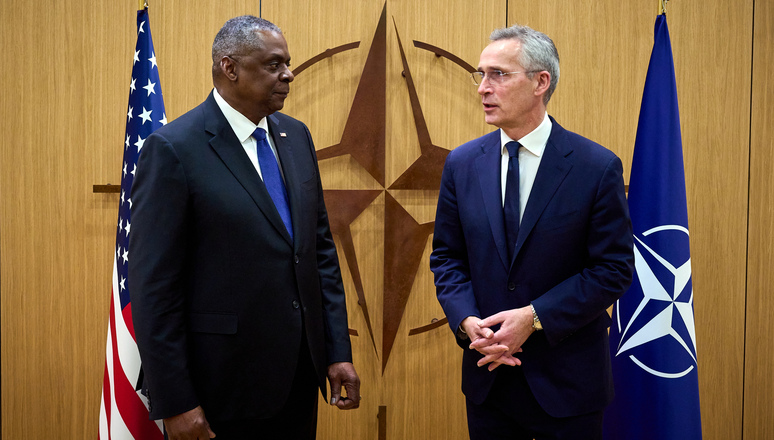 Secretary General Jens Stoltenberg (right) welcomed US Secretary of Defense Lloyd J. Austin III (left)
In the wake of last year's illegal invasion of Ukraine, the European security environment has changed drastically. NATO has created four new battle groups along its central eastern flank, several European nations have massively increased military spending, and the US has increased troop deployments to several European nations.
      On February 25, 2022, just one day after Russian troops crossed into Ukraine en masse, the Pentagon announced that an additional 7,000 troops were being deployed to Europe as part of the first-ever deployment of NATO's Response Force. Those forces brought the total number of US troops in Europe up to 14,000. That number has increased since. Notably, the US has also begun deploying command and support units to Poland, the first ever permanent stationing of US troops on NATO's eastern flank. These deployments of additional US troops to Europe, while predictable given the circumstances, marks a major increase in US military commitment and readiness along NATO's eastern flank. Many of these forces, including those on non-permanent station, are likely to remain in Europe for the foreseeable future.
      The Pentagon has remarked that these deployments represent the strength of the US's commitment to its European allies, both symbolically and in effective deterrence. This sentiment has been echoed by other NATO members, suggesting an overall increased appetite for military preparation throughout much of Europe. Nowhere is this more clear than Poland, which has committed to doubling the size of its armed forces by 2035 as well as boosting defense spending to 4% of GPD. In February, Polish Prime Minister Mateusz Morawiecki indicated that talks were underway for additional US troop deployments to Poland. Germany has also pledged to increase defense spending, reversing years of hesitation, as the government now seeks to meet NATO's defense spending guidelines. In total, these developments represent tens of billions of dollars spent on military material and personnel across Europe and beyond.
      Overall, the past year has seen a new wave of militarization in Europe and a corresponding increase in political tension between NATO and Russia. While these military expansions and deployments may not be realized for some time, they once again raise the uncomfortable specter of large scale conflict between NATO and Russia. As the war in Ukraine plunges into its second year with little sign of slowing down, NATO and those aligned with it have been recalibrating their security policies towards the possibility of a broader conflict. For the time being, that conflict, assuming it would be with Russia, appears to be held at bay. Politically both NATO and Russia recognize the futility of such a conflict, and current analysis and evidence suggests that Russia's armed forces have lost substantial ground capabilities as a result of losses in Ukraine.