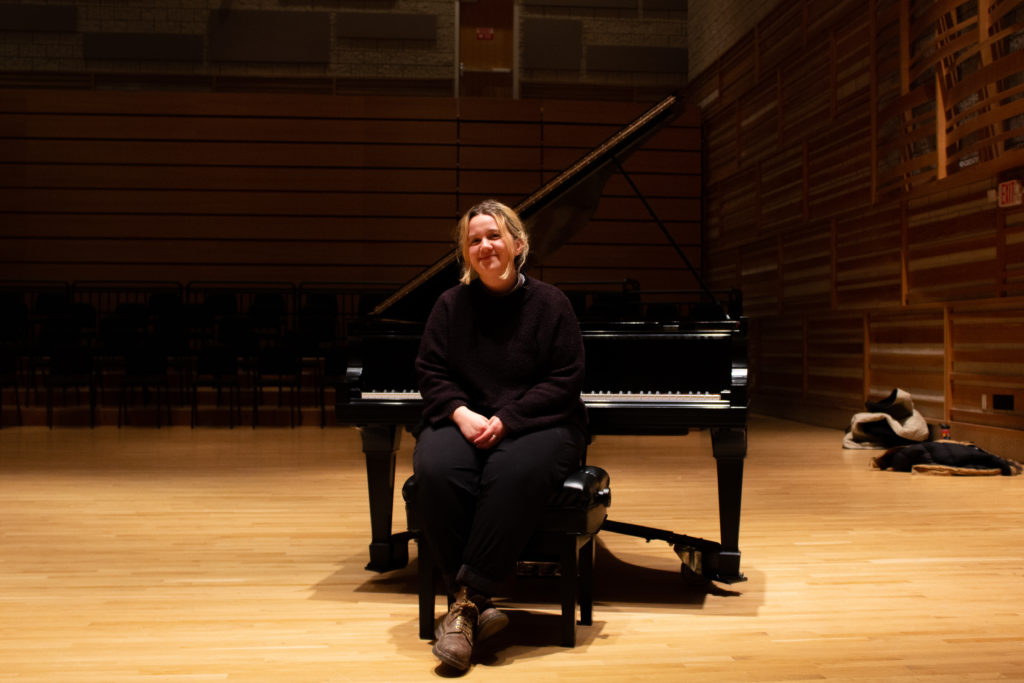 On March 5th, Nicola Gacy held her senior piano recital in Lingle Hall. The crowd — maybe 40 people — consisted of many of her friends and teachers from Earlham in addition to her parents and childhood best friend.
      The recital consisted of sections where Nicola played piano, followed by her giving a short lecture on the pieces she was playing. A thread connecting the four composers she played is that they were all marginalized for who they were. There was one Jewish composer who moved to the United States to escape antisemitism in Russia, one composer whose music was sometimes described as feminine, weak, or improper and whose sexuality has become a topic of interest, and two women composers, one African American, who struggled to gain recognition during a time and in a field where women's contributions were suppressed. Nicola was happy with how the recital went. Her biggest fear going into it was that she would feel anxious and out-of-control as she was playing. In an interview with her two days after the recital, Nicola said she, "enjoyed playing in the moment, and so that was … the best thing I could ask for." She added that it felt sort of surreal after it ended when she stood outside hugging her friends and thanking people for coming. "It was awesome just to … love every single person who was in the audience and just [feel] like really supported."
      Nicola has been playing piano since she was five. She likes how learning a new song is like figuring out a puzzle. When first looking the sheet music for a piece, she has no idea what it sounds like, and it seems almost impossible. Then, note by note, she learns it, taking something complex and putting it into her body as she plays. Once she knows a piece, she gets to play with it, interpret it, and feel emotional with it. The process of learning a new piece is "like turning a puzzle into a poem." Nicola is the only music major this year. After she graduates in May, she hopes to do Quaker Voluntary Service. She's unsure where she'll go after that, but she knows she will continue to play music for the rest of her life. One of the things she will miss the most from Earlham is Kathmandu, the open mics hosted every few weeks at Music House.
      During the interview, Nicola expressed her frustration with a class she took at Earlham on western music history; all but one of the composers they learned about were white men, and this choice was never questioned. Her closing words before she played the final pieces of her recital echoed this frustration and are telling of the composers she chose to play: "Who we listen to matters. Who we learn about in class matters. Whose music we play matters. Acknowledging and appreciating history matters."