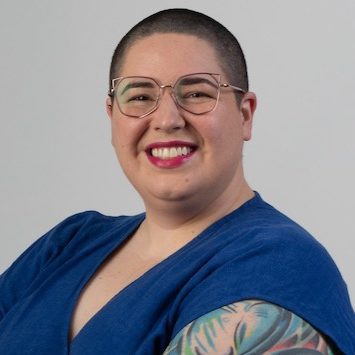 Shannon Flaherty is currently an assistant professor of art history here at Earlham College. She chose Earlham because she wanted to teach at a small liberal arts college. What drew her to Earlham is the college's philosophy of education as a tool for change. Although her time at Earlham has been short, one of her favorite memories was witnessing the 2022 senior art presentations. The presentations exhibited the strength of the community here at Earlham as faculty and peers all came together to support the artists. 
     When asked what Women's History Month meant to her, Shannon explained that it gives us time to reflect upon the histories of women and other marginalized gender identities that are deliberately erased or ignored. There is still lots of work to do, but March gives us time to reflect and recognize the spectrum of gender identities of women, their histories, and how we tell those histories. 
     Today, Shannon believes that women at Earlham can support one another by celebrating the many cool projects they are a part of. We can also celebrate the many collaborations between students, professors, and staff. 
     Yvonne Washington is currently the assistant director of the Multicultural Resource Center and community outreach. Yvonne was raised here in Richmond; she would attend Earlham events while she was in middle school and all the way to her twenties. She remembers taking prayer walks on the outdoor track often and attending dances in what is now the Comstock room. 
     Some of her favorite memories include building genuine relationships with students. Yvonne's first position was visit coordinator, so she would meet students at their initial visits and watch students grow and develop their identities. When asked what Women's History Month meant to her, Yvonne said she views it as a time to celebrate women's uniqueness. When women are comfortable with themselves, they have the ability to breathe life into things. Today, Yvonne believes that women must move away from competitive jealousy and internalized misogyny. "Sexism and all the other '-isms' can be internalized, and I still see the actions and opinions of men being accepted without question while women are expected to constantly prove their existence and positions."