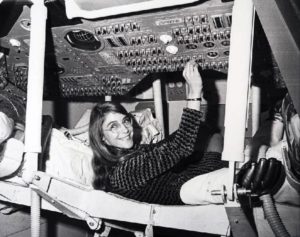 To commemorate Women's History Month last March, we want to highlight notable women alumni. Anne Houtman has also highlighted these amazing women in her Earlham Update on March 24th. 
      One of these alumni is Margaret Hamilton. She obtained her BA here at Earlham in mathematics with a philosophy minor in 1958. She is famously known for her work on NASA's Apollo Project; she and her MIT team developed the onboard flight software. She later founded two software companies, received the Presidential Medal of Freedom, and even coined the term "software engineering." Besides the Apollo Project, she has also played a huge role in the Semi-Automatic Ground Environment (SAGE) at the MIT Lincoln Lab, which involved creating a prototype computer used by the U.S. Airforce to spot unfriendly aircraft. 
      Another noteworthy alumnus is Zitkala-Ša, who was a famous Yankton Dakota writer. Not only was she a writer, she was also a translator, editor, musician, educator, and political activist. Her work speaks upon the struggles of cultural identity; the conflict of being raised in Yankton Dakota culture while existing in a majority white culture is reflected in her collection of writings titled American Indian Stories. She has also written Old Indian Legends, a collection of stories directed at children to help preserve indigenous people's stories, and Oklahoma's Poor Rich Indian, which is a piece of political writing that exposes the deliberate defrauding of indigenous tribes by American corporations. Her writing also extends to operas; she won the 1938 New York Light Opera Guild Opera of the Year award. Furthermore, she played large roles in political activism, such as being involved in the Society of American Indians (SAI), the General Federation of Women's Clubs during the women's rights movement, and founding the National Council of American Indians (NCAI). 
     Last but not least, Simone Leigh graduated from Earlham in 1990 with a BA in art and a minor in philosophy. She is currently an artist in New York City; she uses a variety of media including sculpture, installations, video, performance, and social practice. She describes her work as auto-ethnographic with a thematic focus on the marginalization of women of color and what she describes as "black female subjectivity." Her other themes and motifs are African art and vernacular objects, performance, and feminism. Her works include Brick House and The Waiting Room, and her exhibitions and solo shows have been in various museums and galleries throughout the U.S. 
Source: Wikipedia